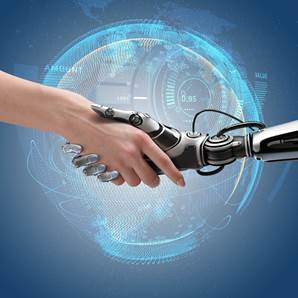 VIEWPOINT – CLEMENCE SIMON, A CONSULTANT IN INDUSTRY PRACTICE AT GRANT ALEXANDER, HAS A SHARP EYE FOR NEW GENERATIONS AND NEW TECHNOLOGIES.
SHE GIVES US HER PERSPECTIVE ON ARTIFICIAL INTELLIGENCE IN THE FIELD OF RECRUITMENT…
Let's face it, AI (Artificial Intelligence) is a trend. It's a buzzword that can frighten some people without them really understanding why. So in concrete terms, what is AI?
Artificial intelligence is much more than a simple technology, it is a set of techniques simulating human cognitive processes. Already present in our daily lives ("Hello Siri!"), AI promises to have a growing impact on all sectors of the economy. While GAFA have already taken over this promising sector (estimated at $11 billion in 5 years), AI also raises many ethical questions – and recruitment is of course one of them.
WILL AI LEAD TO LESS DISCRIMINATION?
When it comes to AI and recruitment, the first use case is the review of job applications. Some see this as the end of discrimination linked to human bias, and therefore a step forward in the objectivity of selection. Examples include "CV Catcher" used by SNCF and Axa, or "Vera" which has already attracted Ikea, Pepsi Co and L'Oréal. AI screens the resumes received and pre-selects the applications that it considers most relevant.
However, the AI being developed internally by the giant Amazon (which rates candidates from 1 to 5 stars, yes, just like products!) proved sexist in its choices, excluding women who applied for technical positions. Based on the company's data from the last 10 years, it noted how few women there are in this type of position and concluded that men are "better".
And that perfectly demonstrates the complexity of AI: it works from the data provided, and thus reproduces similar schemes with a risk of standardisation. Not very objective, nor very disruptive (another buzzword). Data processed by humans, subject to bias.
CAN AI BE USED FOR SOURCING AND SELECTION?
The filtering algorithms used by AI identify key competencies in candidate profiles available on networks and job boards. The promise behind this use is to allow recruiters to spend more time assessing candidates' soft skills and their suitability for the company culture.
Something of a paradox: making recruitment more human through AI!
However, AI applications are not limited to sourcing. Vodafone, for example, entrusts video interviews to robots. Thanks to linguistic engineering (ANLP – automatic natural language processing), AI, which collects information via chatbot, is now able to automatically process the information delivered during an interview.
Video interviews with a chatbot can therefore be compared to directional and structured interviews. The wording of the questions asked is the same for everyone, as is the order of the questions. The power of AI is therefore based more on the analysis of verbal (intonation, semantic content, discourse structure) and non-verbal content (facial expressions, position…). 
IS RECRUITING WITH AI ENTIRELY A GOOD THING?
Recruiting with AI also corresponds to this desire to reduce companies' costs, which would consist in seeing recruitment and human resources more broadly as a support function. In order to increase competitiveness, AI is an additional step towards automation.
Let's look at it another way: the benefit of increasing AI power must reinforce the importance of strictly human aspects. Artificial intelligence must therefore remain a tool at our service. Because while AI services are now being applied to recruitment, they will never replace the headhunter!
To make sense, AI's challenges must now refocus on helping people access employment, accelerating learning and training.
To be continued….
Clémence Simon – February 2019
clemence.simon@grantalexander.com